Digital Matrix Sound Processing Equipment
System automation, multiple inputs and outpus, many sound processor choices, multiple preset sound venues, remote maintenance and repair via internet, high end digital sound quality, minimal wiring and system connections.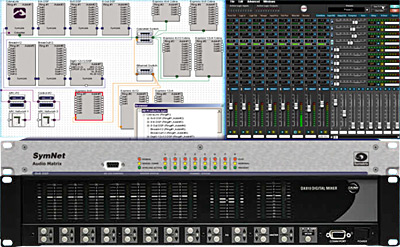 ---
Digital Feedback Suppression
More volume, more stable, less hassle in any sound system design. It simply helps a system become more useful.


---
Advanced Technology Loudspeaker Systems
The best materials, time aligned, superior magnetics, simply great smooth real sound reproduction without artifacts.


---
Large Element Music Microphones
Mics that do not compromise musical quality. Clean and smooth reproduction with wide pickup pattern for solo and choral reproduction and recording.


---
Accurate Computer Based Measurement and Analysis Devices
Sound system setup requires fast, accurate, and efficient sound analysis and room evaluation tools. FFT processing using fast computers facilitates this critical analysis.


---
Wireless Microphones that Operate and Sound Like Wired Mics
Digitally controlled multichannel wireless microphones with transparent voice paths make sound quality and wireless compatible. Body worn handheld transmitters available.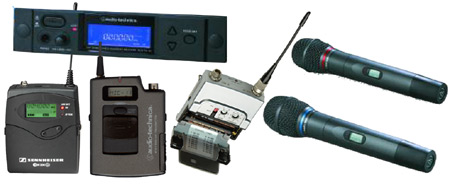 ---
Headset and Lavaliere Microphones that Even Broadway Theaters Use
Lavalier microphones that sound like mics in front of you.


---
Speech Enhansing Low Profile Microphones


---
Convenient, Attractive Equipment Enclosures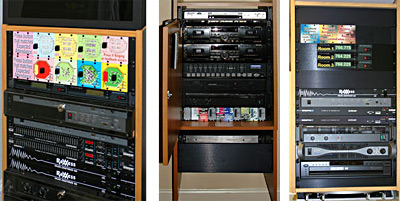 ---
Easy to Identify Connector Plates
Color-coded and labeled wiring - Connector plates are custom made with color codes and pictures to make removal and replacement of cables easy for a novice.


---
Advanced Control panels to Provide Repeatable Control to Any System Function


---
Advanced Digital Choral Recording Systems with Tube Type Preamps


---
Hearing Impaired Assistance Infrared Systems